The cleaning station CIP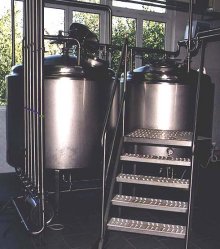 The cleaning station is determined to perfect cleaning of the machines of filling lines, pipe systems, and different tanks which are placed in producing plant. We can not use production and filling devices for beverages without this cleaning appliance.
We have two types of cleaning stations and that hand or full automatic. At the using of hand station operator opens and closes pipe ways by hand and the time of cleaning we can fluently set up according to the circumstances. The cleaning time is determined by temperature at we make cleaning process. These hand stations have simple computer control system.
The full automatic stations have complicated control system. This system controls and checks all function of station. The prices of these cleaning stations are two or three times higher than hand stations.
The main parts of cleaning station are two bigger tanks, which have volume according to the volume of the tanks or appliances which we want clean. Further parts are smaller tank for preparing of concentrated cleaning liquid, hand and pneumatic closing valves, pump of station, on the wish return pump, electric or steam heating of cleaning liquid with exchanger, computer control system and frame of machine.
The function principle of station is described in the following text. At the assembly of the station we have to join all appliances and tanks, which we want clean into circle with station. That means we can have on one cleaning station more cleaning circles. In each cleaning circle must be return pump. When we have circles prepared we choose appliance, which we want clean. In one bigger tank we prepare hot water and in the small tank we prepare concentrated cleaning liquid. When we have automatic station control prepares into bigger tank cleaning liquid and after that starts clean the appliances or tanks. At the cleaning liquid pass during exchanger is liquid by steam warmed. When we have hand station within a night we can warm cleaning liquid and after that we chose cleaning circle and we start clean Return pump gives back cleaning liquid into tank and so we can clean how long we want. All parameters of cleaning process we can choose. All parts of appliance expect of return pumps are placed on the frame. The frame of the machine allows easy transport and displacement in the producing plant of beverages.
Whole appliance inclusive of frame is produced from stainless steel, rubber and seals which are used are from materials which can be used in food industry. The guarantee of the machine is since one till two years according to circumstances.
The appliance is exported to customer with completely documents.
---