The appliance for producing of carbonated beverages type MIX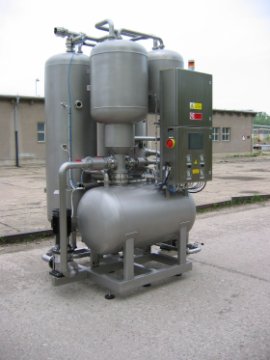 MIX machine is intended to continual production of flavoured and undepleted carbonated and non-carbonated beverage. It is possible to produce these kind of beverages: carbonated water, flavoured modified water, mineral water, ice tea or energy drink. Every machine is designed in accordance with customers' requirements and needs.
Production of flavoured beverage proceeds subsequently: In the mixing tank is mixed exactly defined and measured amount of syrup and water. It is possible to fluently change mixing ratio in proportion of basic 1 : 5 till 1 : 15. If customer needs, it is possible to choose another mixing proportion, which lies out of basic mixing proportion. The machine has not dosing voluminous pump. Machine operator can set required mixing proportion on the machine control panel.
Accuracy of voluminous mixed beverage is ±0,5%.
Deaerate of treatment water proceeds in water deaerate tank either by overpressure of CO2 or in vacuum.
Level of carbonation of the beverage is able to fluently change at intervals ( 0 - 8 ) g CO2/l of beverage while the temperature of the water is until 15o C.
The machine doesn't need any tender during production of beverage, tender only have to set machine when it is starting production process. Of course there is a possibility to clean machine separately. Cleaning process set tender on the control panel.
Customer is able to choose control system of the machine from the offered assortment. Instructions to the machine are set by tender via LCD touch panel.
The machine has his own frame, which allows easy manipulation and displacement of the machine. Whole machine is produced from stainless steel and rubbers and seals are from materials, which we can use in food industry.
The guarantee of the machine is minimally 12 months.
---