The bottle washing type ML 300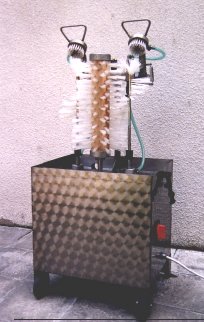 The bottle washing ML 300 serves for mechanical semi-automatic washing of the outside and inside surface of bottles with capacity 0,3 to 2 litres. The brushes ensures mechanical washing of bottles, the water is supplied into brushes all the time. The bottoms of the bottles are washed by thrust brush of circular shape.
The outfit is made from non-rusting material and all materials, which come into the contact with the inside of the bottles, are unexceptionable for the grocery.
Constructional, the bottle washing is divided into the two parts - the upper and the lower part. The lower part of the outfit is created from load-bearing structure, which has drive with gearbox. The shafts are articulated to the gearbox and washing brushes are put on the shafts. On the brushes there are placed sliding stops that serve for the adjustment of the high of the bottle. There are the clips that hold bottles placed in the upper part of the outfit. The bottle washing is connected to the water supply by union nut with dimension G 1". There are four wheels on the bottle washing which serve for simple handling.
---