The appliance for pasteurization of beverages by steam type PAP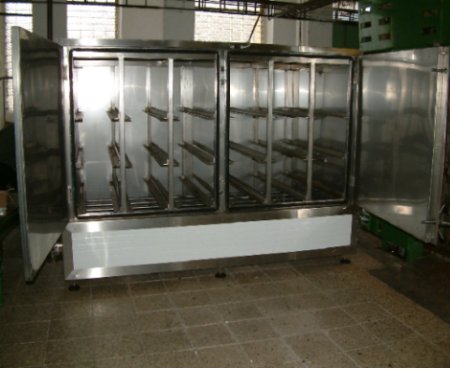 The appliance for pasteurization of beverages is designed as steam pasteurizer. The pasteurization allows steam, which is admitted into chamber of pasteurizer. In the pasteurizer we can pasteurize filled closed bottles. Bottles can have labels and have to be placed into manmade bottle crates. The pasteurization curve is arbitrary set up that means the temperature and time of pasteurization we can fluently change according to the requests. How was wrote rise temperature on the pasteurization temperature is slow also according to requests.
This type of pasteurizer is standard produced without cooling section, but on the wish of customer we can produce this pasteurizer with air cooling. In the case of pasteurizer without cooling is output temperature of bottles even temperature of pasteurization and bottles are cooled in storage during unforced cooling. Controlling of temperatures and times of this appliance is during small control programmable unit.
The pasteurizer is composed from pasteurizer chamber, which is placed on the frame of pasteurizer. In the inner of chamber are produced three floors which support bottle crates. Further part of device is steam register which allows heating of chamber and bottles on temperature of pasteurization. In nature is steam register stainless steel pipe with holes which distributes steam uniform in the chamber. Further parts are pneumatic and hand closing valves, regulators and control unit of machine. Outside surface of pasteurizer are heat insulation panels in white colour. The inner surface of chamber is stainless steel polished sheet. The device has legs which we can fluently set up and that allows set up machine in horizontal position and cleaning under device.
The pasteurizer is determined for filling lines with small and middle power.
The advantages of this device are lower price, low consumption of energy and possibility of pasteurization of beverages in bottle crates and with labels and small dimensions of machine. Whole appliance is produced from stainless steel or manmade material, rubber and seals which are used are from materials which can be used in food industry. The device we can easy and perfect clean without problems. The guarantee of the devices is since one till two years according to circumstances.
The appliance is exported to customer with completely documents.
---