The technology for water preparing type TUV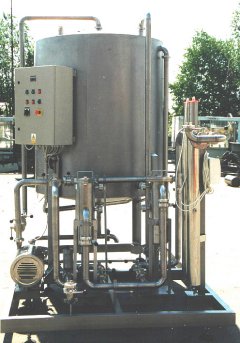 The appliance is determined to the treatment of water, which is pumped from the well or is flowing from filtration or from de-ironing filter.
The technology is composed from following parts. Those are rough filtration, fine filtration, UV-radiation, which allows microbial care of water before input to following machine, storage tank for water, which is after treatment, pumps, pneumatic and hand closing valves, control of the machine and frame. These all parts are placed on the frame, which allows easy transport and displacement of technology. The size of storage tank for water is determined by power of technology.
The function principle of machine is described in the following text. Control of the technology checks that in storage is not rest of water and opens pneumatic valve on the input of water or switch on pump, which pumps water from well. Pumped water is guided through rough and fine water filters into water storage tank. Level sensor, which is placed in tank on max. value, stopped pump when is tank full. Now is started pump of technology, which transported water into for example carbonating machine through the UV-lamps. Here is water microbial treated. When water is in storage tank on min. level sensor starts water pump and whole cycle is repeated.
The appliance has own sanitation system, which allows easy cleaning of whole technology. Whole appliance inclusive of frame is produced from stainless steel, rubber and seals which are used are from materials which can be used in food industry. The guarantee of the machine is since one till two years according to circumstances.
The appliance is exported to customer with completely documents.
---